Earn $40,000 USD In 3 Months As An Ice Road Truck Driver In Canada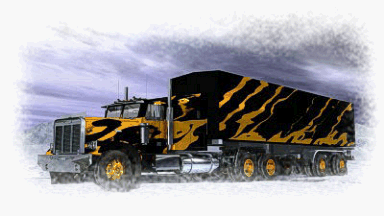 Hiring Window For Ice Road Truck
Job Seekers
Now Is The Time To Secure Your Job As A Canadian Ice Road Trucker Through The Contacts In Our Guide. Don't miss the hiring window!
IMPORTANT NOTE TO ICE ROAD TRUCK JOB SEEKERS
Please understand that we are not an Ice Road Trucking hiring or recruitment agency. We sell an eBook that provides the resources, tools, information & regional contacts necessary to secure employment as an Ice Road Trucker in Canada. We do not take in applications. You will be able to forward your Resumes/CV's to the transport companies in Yellowknife using our guide.



A Step-By-Step Ice Road Trucking Employment Tool

NO FLUFF - NO FILLER

A Comprehensive Guide To Quickly & Easily Securing Employment In The High Paying Ice Road Trucking Industry

A Nationally Recognized, Proven Step-By-Step Guide On How To Secure A Job As An Ice Road Trucker In Canada Transporting Goods To and From The Diamond Mines

Only a few feet of Ice is all that stands between you & disaster. Will the ice hold as you drive over it? The frightening sound of the ice road cracking as you make your way to the diamond mines is truly indescribable even for the most experienced of drivers... For those that wish to brave the elements, there is no other job like it in the world!
The Canadian tundra is one of the most desolate lands in the world. Virtually untouched for millions of years, until 1991, when the diamond mines were discovered. Yellowknife is now the departure point for all outgoing truck shipments to the mines. With the high turnover, lack of driver's & high pay, this region has fast become one of the most attractive employment opportunities in the world. Regardless of which country you are from, or what language you speak, an Ice Road Truck Job might be right down your alley!
Thank you for visiting Ice Road Truck Jobs.com
Whether you are a licensed truck driver, or inexperienced and just starting out, we are confident that you have found the right web site to realize a substantial income as a seasonal Ice Road Truck Driver in Canada.
The Ice Road Truck Season in Canada lasts only about 2-3 months, in which the only way to transport goods to the Diamond Mines is the treacherous Ice Road. Truck Driver's can earn tens of thousand of dollars "a year's salary" in a 2-3 month time frame.
The Ice Road in Canada are basically lakes frozen over in the Northwest Territory between Yellowknife and the Diamond Mines. They are groomed every year so that trucks can pass over them to deliver goods to the Ekati, Diavik & other diamond mines in the region.
In a typical season, an Ice Road Truck Driver can expect to earn at $20-40k, and upwards to $60-80k USD if you are experienced and have contracts set up with the more reputable Ice Road Trucking Companies.
Regardless if you have a CDL license or not, or which country you are from, you will find all of the resources, tools, information & contacts to become a high-paid Ice Road Truck Driver.
We have been in the business since 1995, and have gained a reputation in the industry as being one of the most reliable sources of Ice Road Trucking Employment Information.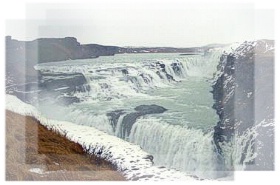 Why Ice Road Trucking?
The Ice Road Trucking season offers an employment experience like no other, due to the fact you'll be your own boss, and see things others wouldn't see in a normal job "bears, wildlife, amazing scenery". Responsibility will be put on your shoulder's to reach the Diamond mines where you are cheered by the worker's, praising your experience & courage in reaching the pit. It really is a great rush!
The sheer excitement is absolutely amazing! With years of experience in the industry and input from current truckers, we take you step-by-step on how to secure a position in one of the best paying companies in Canada.
An increasing amount of web sites are popping up on the subject of Ice Road Trucking, however, we do want you to be careful.
A majority of the web sites selling lists, contact information & eBooks are often providing outdated & inaccurate material. There are even courses on how to become an Ice Road Trucker, but often advertise low teaser rates. Once they've signed you on, they require you to call, and try to upgrade your membership status at a cost of several hundred to several thousand dollars.
We are the only widely accepted web site on the Internet offering a comprehensive eBook "resource tool" specifically for securing employment as an Ice Road Trucker.
The Diamond Mines - 2 month window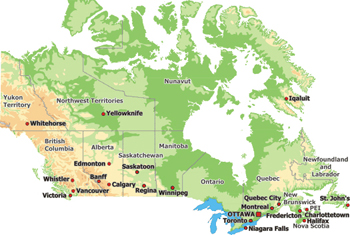 There are a handful of Diamond Mines' in the Northwest Territory that you will be transporting goods to. Here are a few in the Yellowknife region:
Diavik Diamond Mine

Ekati Diamond Mine

Gahcho Kue Diamond Mine Project

Jericho Diamond Mine

Snap Lake Diamond Mine Project

Victor Diamond Mine Project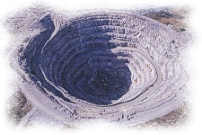 Panda Pit, Ekati Diamond Mine - Canada
The Challenges
Life on the Ice Road certainly offers challenge to any truck driver. You'll be responsible for the Cargo, and generating revenue for the trucking companies. If you fail, then your contract may be cancelled.
The pressure is on to take the Ice Road's into the unknown, to go and come back in one piece. If you think you've got what it takes to be a tough ice road trucker, then this may be business for you.
There is no other greater challenge for a Truck Driver than to hit the Ice Roads, gauging how fast you should drive, how quick you should take the turn, calculating how much sleep you need, or keeping your own schedule.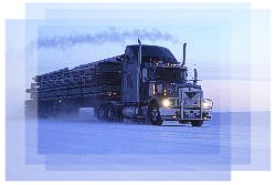 Life As An Ice Road Trucker
Life as an ice road truck driver can be exciting in many regards. As experienced ice road truck driver's in Canada, we can tell you that the life is great. Revving the engine at night, sleeping in your cab off the side of a deserted road, gauging how thick the ice is for crossing, seeing wildlife, the mountains, frozen lakes, is truly breathtaking.
Whether you are considering becoming an Ice Road Truck Driver, experienced or not, we are confident that you will find this business to be extremely rewarding, not only personally but financially.
You'll make friends quickly & everybody in downtown Yellowknife, Canada will know your name.
Unlike a regular truck driving job, this unique segment of the industry offers great financial satisfaction in a short period of time.
Who Can Become A Canadian Ice Road Truck Driver?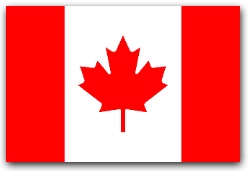 Anybody who has an interest in Truck Driving as a part-time job or as a career may look into the Ice Road employment sector.
Whether you are licensed or not, from Canada or another country, you will find everything you need to become an Ice Road Truck Driver in our featured eBook.
International Non-Canadian Residents, please note: If you reside outside of Canada, and are looking to become an Ice Road Truck Driver, you'll find all of the information you need to do so.
Within our link directory, you'll find direct contact information to Ice Road Trucking Companies in the Yellowknife Region, where you will be able to contact them, and express your interest in an Ice Road Trucking Employment Position. They will then send you an employment package to your home address, in which you will fill it out and send it back to them. After they receive it, they will review it, and send you out an Employment Petition "formal request" which is to be presented at the Canadian Embassy in your home country. Corporate / Work VISA's are almost always granted by the embassy for Canadian Ice Road Trucking Employment as they realize trucking companies need the workers.
Canadian Work VISA's are issued to residents of the following countries:

Income Potential
As an Ice Road Truck Driver, you can earn us much as $90,000 in three months or as little as $20-40k, as long as you sign employment agreements with one of the major Ice Road Trucking companies in Canada. Within our eBook, you will find a list of Ice Road Trucking Companies & general resources needed to secure employment as an Ice Road Truck Driver.
Every season, the Ice Road truck driver's set out to maximize their load counts to and from the diamond mines in Yellowknife.
The amount you can earn per truckload across the 350 mile ice road can reach thousands of dollars. The journey, the money, the admiration, it's all worth it!
Training - Licensed or not?
Whether you are trained, licensed or an unlicensed truck driver, you will find our Ice Road Trucking eBook to be vital when looking to become an Ice Road Trucker. If you are an experienced truck driver, simply call any one of the trucking companies listed in our directory, and apply for a job. If you are inexperienced and unlicensed, we provide a list of Training Schools & Programs, where you can go to and train, and get a commercial driver's license in Canada.
If you are a U.S. Truck Driver, and are looking to drive in Canada as an Ice Road Truck Driver, then you will find it very easy to obtain a Canadian Driver's License.
Within our eBook, you will find a section dedicated to providing the contact information & resources required to become a licensed, trained Ice Road Truck Driver.
There are currently hundreds of positions that need to be filled, due to the fact turnover during the Ice Road Truck season is high, and freight companies lose an average of 22.1 percent of their employees annually.
Ice Road Truck Driver's are in constant demand as the miner's & their operators depend on freight being transported.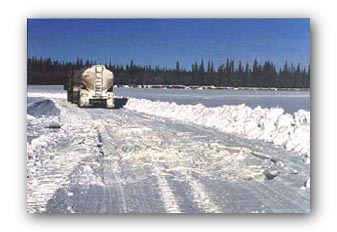 Opportunities For All
The Ice Road Trucking Employment sector offers opportunities for all, regardless of age, physical condition, or country of origin. No where in Canada can an inexperienced, ordinary individual earn a year's salary within a 2-month time frame.
Imagine working two months out of the year, and having the rest of the 10 months off, kicking back, traveling and enjoying life.
Regardless of what industry you currently work or are engaged in, whether it be the service-industry, computers, technology, etc..., or a licensed truck driver, the question you have to ask yourself is:
Why work 40-60 hours a week, 9-11 months out of the year, when you can work less and make an equal amount or greater in only 2 months?
The Perks - An ideal job for truckers
Because of the high turnover rate in the Ice Road Trucking Industry, an increasing number of transport companies are offering an array of benefits to retain their driver's, such as providing: life, accident or injury insurance; medical and dental coverage; paid time for training, guaranteed days off and performance incentive programs. Other companies provide flexible work weeks or adjust activities to accommodate older personnel.
Since there's Free Room & Board at all times, and taxes are minimal, nearly all monies earned is saved!
Please keep in mind, that nearly all of the 50-100 trucking companies that transport goods on the Ice Roads offer these perks.
This is definitely the ideal job for driver's who are looking for a high paying job, with all of the benefits for them and their families.